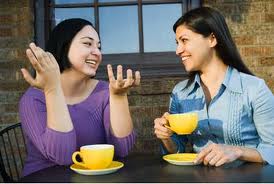 Other people cannot read my mind. This fact seems perfectly obvious, but sometimes I overlook it. Especially when my cherished hopes and dreams are involved. Afraid someone might laugh, I keep quiet. Then, I get frustrated that no one helps me reach my goals. As if people should be able to see inside my head and know what I want!
It took me years to admit out loud that I wanted to be a writer. It was my carefully guarded secret, and it should have come as no surprise that people had all kinds of other plans for me. They weren't rejecting my dream, they were simply busy pursuing their own projects and responsibilities.
From time to time, I would drop a hint, in hopes that someone might latch onto my dream and promote it for me. This tactic produced no results, and I finally came to understand that it's my job to be the spokesman for my goals. Why should anyone else care about my dream if I'm not willing to claim it, own it and champion it?
When I finally began saying "I want to be a writer," I felt awkward and foolish. Surely no one would take me seriously when I had no credentials to my name! Thankfully, everyone was gentle with my fumbling attempts to bring my dream out into the open. They listened and asked polite questions. Although my answers were tentative and jumbled, no one laughed.
Even if some had laughed, it would have been worth it, because the more I talked, the better I understood my goals. As I searched for words to explain myself, the dream solidified into a clear game plan, which I outlined in detail whenever anyone asked "How's your writing going?" The more I shared my plans, the more support I received from others. Friends and family became my eyes and ears, scouting for story ideas. Acquaintances steered me to resources to improve my writing. My son gave me a new desk for Christmas and my husband became my in-house proofreader.
When I finally managed to get a few stories published, I discovered a whole new dimension of support: encouragement from strangers. At a public gathering, a woman I barely knew seemed to be staring at me from across the room. "Oh no," I thought, "did I do something to offend her? Do I have food on my face? Why is she looking at me?"
Eventually, she approached and asked, "Didn't you have a story in Guideposts Magazine?" There was an approving light in her eyes. She was interested in what I had written and wanted to know more about my work. My work!  What a beautiful phrase!