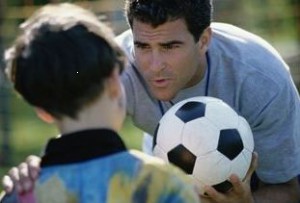 Every athlete needs a coach. As one trainer told me, "It's not true that 'practice makes perfect.' The truth is that perfect practice makes improvement."  
Coaching is  not limited to sports. The apostle Paul says all of life is a race, and much more is at stake than a gold medal. ( 1 Corinthians 9: 24-25, Hebrews 12:1,  1 Timothy 4:7-8)  We need a wise coach—someone who sees our potential and pushes us to do the hard work needed to get there. Someone to help us see our errors and overcome them. Who, better than our Creator, to fill this role?
A coach channels the athlete's energy and effort. Drawing from a deep store of knowledge, the coach gives just enough guidance for the next, immediate step of growth. Our ultimate Life Coach knows our abilities and knows how to teach us. He will not give up when we become discouraged.
A reasonable person might object, "I can't hear God talk. How's he supposed to guide me?"
There is a way.
Jesus said, " the Counselor, the Holy Spirit, whom the Father will send in my name, he will teach you all things…" (John 14:26)
Jesus also promised that our heavenly Father will "give the Holy Spirit to those who ask Him." (Luke 11:13)
Based on these two statements, a workable plan would be to ask God to give us his Holy Spirit, and then ask the Holy Spirit to guide our daily decisions.
Again, a reasonable person might object, "I've tried that. One day I asked God to guide me, and that day went just as badly as all the others. Maybe even worse."
Would an athlete say, "I've spent a whole hour with my new coach and I can't see any improvement?"  Good coaching takes time and faithful followership. The early stages can be very frustrating. For example, a tennis player who has always used an incorrect grip will find it awkward and clumsy to switch to the right one. For a time, the results may appear to worsen when, in fact, the groundwork is being laid for future progress. http://www.optimumtennis.net/play-better-tennis.htm
So it is with life. When we put ourselves in the hands of our ultimate Coach, our early lessons may involve taking "two steps back" as we unlearn bad habits. At this stage, the crucial lesson is obedience. If we don't trust our Coach enough to obey his directions, we'll never be able to follow him to the higher levels.
The big sticking point, at first, is that although we want to obey the Holy Spirit, we don't have a clue what he's saying. It takes practice to find that "still, small voice" amidst all the other noises inside, and outside, our heads. I think it's good to begin with our conscience. Obeying our conscience helps clear away a lot of clutter. The Bible indicates that our conscience can help us know God's will. (See Romans 2:15 and 1 Timothy 1:19)
Will you sometimes make mistakes while trying to follow your conscience? Of course! Discerning right from wrong takes practice, like anything else. If you keep working at it, with God's help, you will improve.
Even before we know how to hear God's voice,  He can hear us. And he wants us to talk to him. He knows all our thoughts anyway, so why not be completely honest?
Matthew 6:6-8  "But you, when you pray, go into your inner room, and having shut your door, pray to your Father who is in secret, and your Father who sees in secret will reward you openly. In praying, don't use vain repetitions…for your Father knows what things you need, before you ask him."  
Tell Him everything: your hopes and dreams, your fears, angers and frustrations. If your conscience is saying something you don't want to hear, talk to God about it. If you don't know what to say to Him, ask the Holy Spirit to help you pray.
"Romans 8:26-27 " In the same way, the Spirit also helps our weaknesses, for we don't know how to pray as we ought. But the Spirit himself makes intercession for us with groanings which can't be uttered. He who searches the hearts knows what is on the Spirit's mind, because he makes intercession for the saints according to God."
Once you're on speaking terms with God, through the Holy Spirit, you can learn a lot by simple trial and error. Ask for help and guidance, then make your best guess and go with it. Then talk to Him about the results and ask for more guidance. You will make a lot of mistakes; that's a part of the process, but if you seriously try to obey the Spirit's leading, you may be surprised how quickly you learn to recognize His voice.